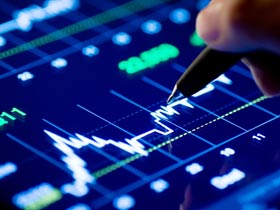 Designed and written in-house, our pricing calibration software allows us to control the flow of stock bought and sold by modifying margin and sales price on an as-required basis.
Using the rich functionality in the software, the buying teams have real-time access to product availability, conversion rates, product profitability and stock turn across thousands of products in varying conditions, allowing us to accurately and rapidly price stock from a geographically diverse and fragmented supply base.
Flexwork currently comprises two separate divisions which share premises, technology, management and some human resources. They are: Golfbidder and Tackle Fanatics.
Golfbidder buys and sells predominately second hand goods. We are not a peer-to-peer (P2P) business which acts as a middleman (such as, for example, eBay). Rather, we are much closer to a traditional retailer in that we take the capital risk ourselves – all the stock belongs to us and is stored at and shipped from our headquarters in Surrey.
We believe this provides significant advantages for both buyers and sellers over the P2P model.
For Buyers: We aggregate stock under one roof providing a huge choice of stock which can be shipped immediately to anywhere in Europe; We offer a low cost of change - the process of upgrading or part-exchanging is simpler and cheaper than anywhere else; Customers are able to buy by phone, receive professional advice if required - and all products come no-quibble trial periods, long warranties – and the certainty that the goods are not counterfeit (a particular issue in the golf market).
For Sellers: Selling to Golfbidder is quick, safe, convenient and hassle-free. We give a guaranteed price, collect any items the seller wants to sell (or sellers can ship themselves) and we pay immediately upon receipt. And we stick to what we say.
Although Tackle Fanatics offers a unique part-exchange service, it is predominately a seller of new fishing equipment.
While the businesses share technology, each division is staffed by passionate experts who are experienced and highly knowledgeable about their particular fields.
We preach a strong customer service ethic. Our philosophy is that no one leaves the 'Group' experience unhappy and we are proud to say that our feedback is outstanding.
In April 2013 we used our technology and experience of trading used goods to launch Camera Jungle - the first website in Europe to offer consumers instant prices for used DSLR camera bodies and lenses. Camera Jungle was sold to Jessops Ltd in spring 2016 and is now headquartered at Jessops' flagship store in Oxford Street, London.